Which Hatsune Miku Nendoroid Model Are You?
Which Host Type Are You?
Which Durarara!! Character Are You?
you are khaki
#F0E68C

Your dominant hues are red and green, so you're definately not afraid to get in and stir things up. You have no time for most people's concerns, you'd rather analyze with your head than be held back by some random "gut feeling".

Your saturation level is lower than average - You don't stress out over things and don't understand people who do. Finishing projects may sometimes be a challenge, but you schedule time as you see fit and the important things all happen in the end, even if not everyone sees your grand master plan.

Your outlook on life is bright. You see good things in situations where others may not be able to, and it frustrates you to see them get down on everything.

the spacefem.com html color quiz
What Type Of Dere Are You?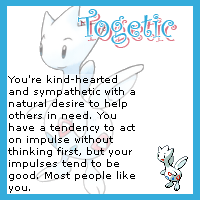 I am Vanilla Flavoured.

I am one of the most popular flavours in the world. Subtle and smooth, I go reasonably with anyone, and rarely do anything to offend. I can be expected to be blending in in society. What Flavour Are You?
Which Studio Ghibli film should you watch test
Your Result: Princess Mononoke
You should watch Princess Mononoke. It is about hatred and war, and their only cure, unconditional love. If you have already seen this movie, maybe choose one from the next couple of results - but if you've seen all those too, just choose the one you like the best.
Castle in the Sky or Pom Poko
Howl's Moving Castle or Porco Rosso
My Neighbor Totoro or Ponyo
From Up On Poppy Hill or Arrietty
Which Studio Ghibli film should you watch test
Click here to take the test!
what's your cowboy bebop theme song?
Which Minecraft Mob Are You?
What type of otaku are you?